CONSTRUCTION CAREER PATHWAYS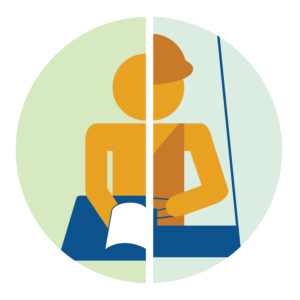 NCCER hosted its fourth annual Construction Career Pathways Conference prior to the Association for Career and Technical Education's (ACTE) CareerTech VISION 2016 Conference in November.
At this year's conference, over 170 attendees participated in the following breakout sessions:
The Many Roads to Successful Local Connections
Bridging the Needs of Industry and Education
Simplifying Articulation with Industry-Recognized Credentials
The Construction Career Pathways Connection Map helps industry and education connect and collaborate at the local level. In 2016, new search filters were added for users to find SkillsUSA chapter directors and ACTE state directors.
In its second year, there were a total of 759 participants on the Connection Map, including:
423

Educators
216 Industry Representatives
51 ACTE Directors
69 SkillsUSA Chapters
YOUNG CRAFT PROFESSIONALS VIDEOS
NCCER released new videos highlighting two young craft professionals from the 2015 Construction Career Pathways Conference. In the first video, Robert Dragg, a combination welder for Turner Industries, explains how he got started in construction and moved up in the industry to become an instructor. The second video features Joey Snider, a pipe welder for Sellers Mechanical Services, who discusses overcoming adversity and how the benefits of a career in construction changed his life.
CURT WORKFORCE DEVELOPMENT AWARD
NCCER received an honorable mention at the 2016 Construction Users Roundtable's Workforce Development Awards for its Construction Career Pathways initiative. The award recognizes extraordinary, exemplary and innovative training and education programs that encourage individuals to pursue a career in the construction industry and/or enhance an individual's construction skills.